The Axelerators are a curious bunch.  Released in Europe in early 1993, they – and their Decepticon counterparts The Skyscorchers – were the first Transformers toys to include the new G2 style faction logos, even though this pre-dated Generation 2 itself by a few months.  Meaning that technically, the G2 logos predate G2 itself, and are just revised versions of the Autobot and Decepticon logos, presumably in an attempt to look a bit cooler to kids in the early 90s.
They were of course released very soon after that in the US, with full Generation Two branded packaging, and new artwork (which featured in the Legacy artbook at the cost of the European artwork – a shame) for the card-backs,
although their case assortment lost the cool and interesting "Axelerators" and replaced it with the much more generic "Small Aubobot Cars".  The only changes to the toys themselves for US release were the clear pink windshield and light-piping eye plastic giving way to a much less interesting clear grey plastic.  For me, the pink plastic firmly identify these as G2 era and my OCD would not sit right having a mixed set, so I had to re-purchase Rapido.  Such a shame that the US versions lost this effect, but even with smokey grey plastic this was the first time a Transformer featured light-piping in the US, having skipped most of the Euro 1.5 who would only see release in the UK in 1996, as part of the Machine Wars subline.
They are a lovely, unique set of Transformers that have seen little in the way of affection or recognition, repaints or even name re-purposing, and that – to me – is a real shame.
Let's take a look at them:
Rapido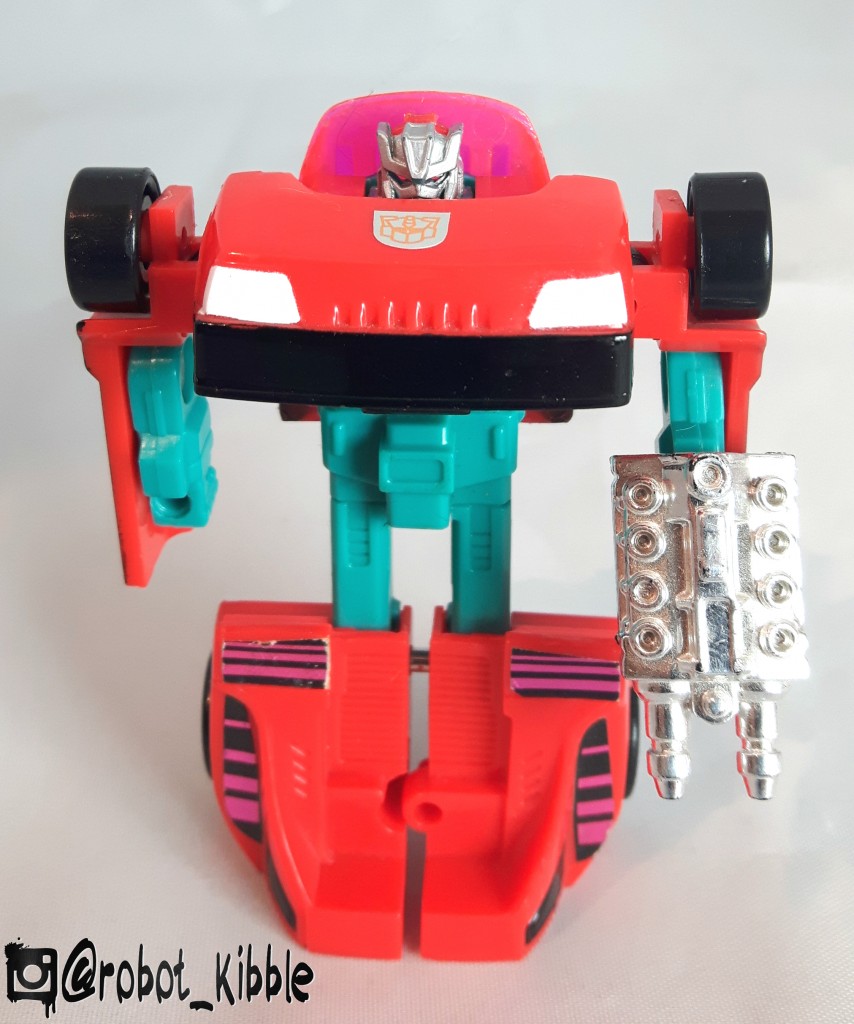 Let's start with the boss of the bunch, and also the most recognisable character from the team.  Platoon Commander Rapido (known as Sirius in Italy) has seen a bit more attention than the rest of the bunch, largely due to a 2010 Botcon appearance thanks to Fun Publications, wherein he had a very cool Spanish language profile.  He also appeared alongside some of the more obscure latter day G1 characters in Furman / Wildman et al's Regeneration One series for IDW, giving him an honest to god G1 appearance.  Rapido has also seen his name repurposed of sorts for the Japanese release of PowerCore Combiners series.
He has a great head-sculpt, but sadly, his bonnet / hood is so large, you just get the top of his head peaking out like Wilfred in the Beano.  Rapido deserves better.  Like all of the Axelerators, his faction sticker is oddly coloured, oddly cut, and prone to fading.  For the sake of accuracy I present them as factory standard here, but they really could do with G2 Repro-labels adorning them.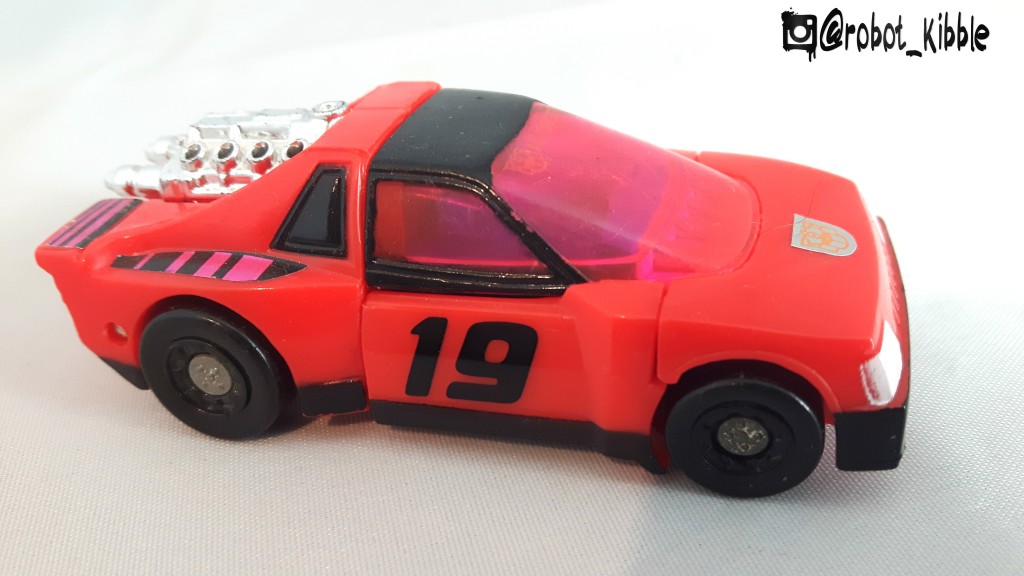 The toy of Rapido features a simple, quick and fun transformation, he is unique in his team in that he has a rear engine configuration, but like all of the Axelerators, he retains the engine to gun play feature.  Sort of a PowerTarget-Master if you like, but on a budget.
Skram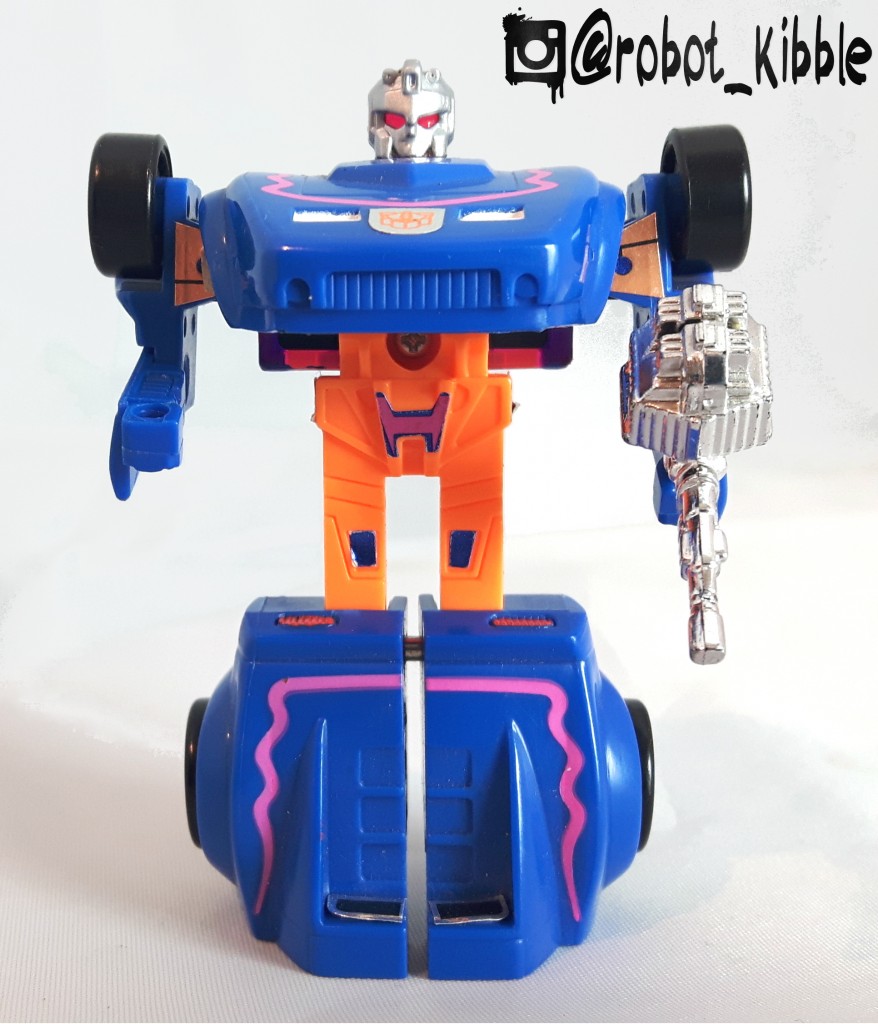 Other than a few token comic cameos, and an obscure reference I don't fully understand, Skram has gone largely unloved.  It's a shame, because anyone with the function of Crack patrol deserves to be loved.  Or arrested.  Skram is alternatively known as Smash or Mercury in various parts of Europe.  Skram has a great head sculpt.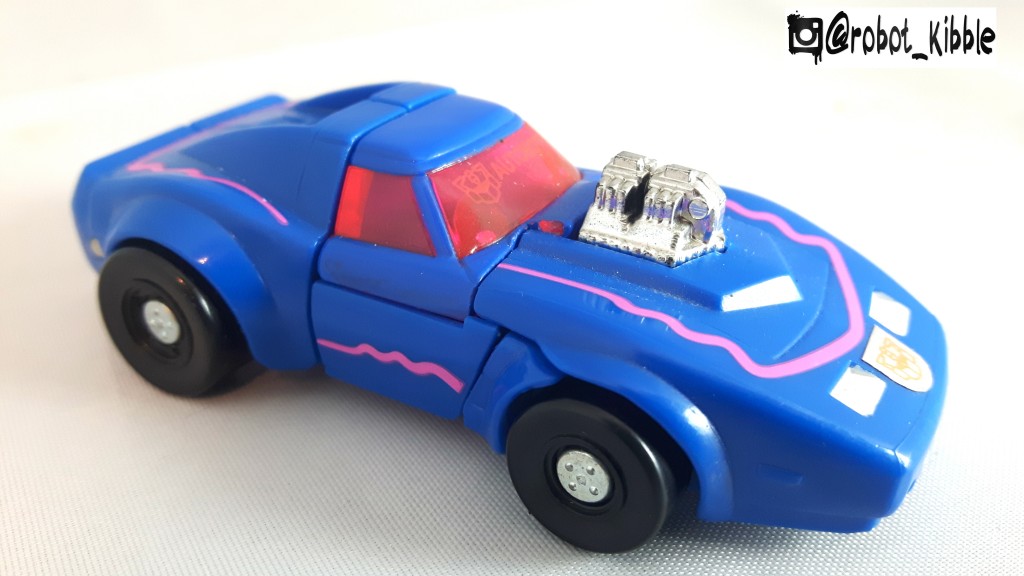 Skram is a heavily modified Corvette Stingray, and every now and then you do see someone crazy enough to take a C3 Corvette cut the hood away and stick a massive great engine block through it.  Not much to write home about, his transformation is perfectly functional and FUN!  Fun is a large part of these guys, as well as crazy colour-schemes.
Hotrider / Turbofire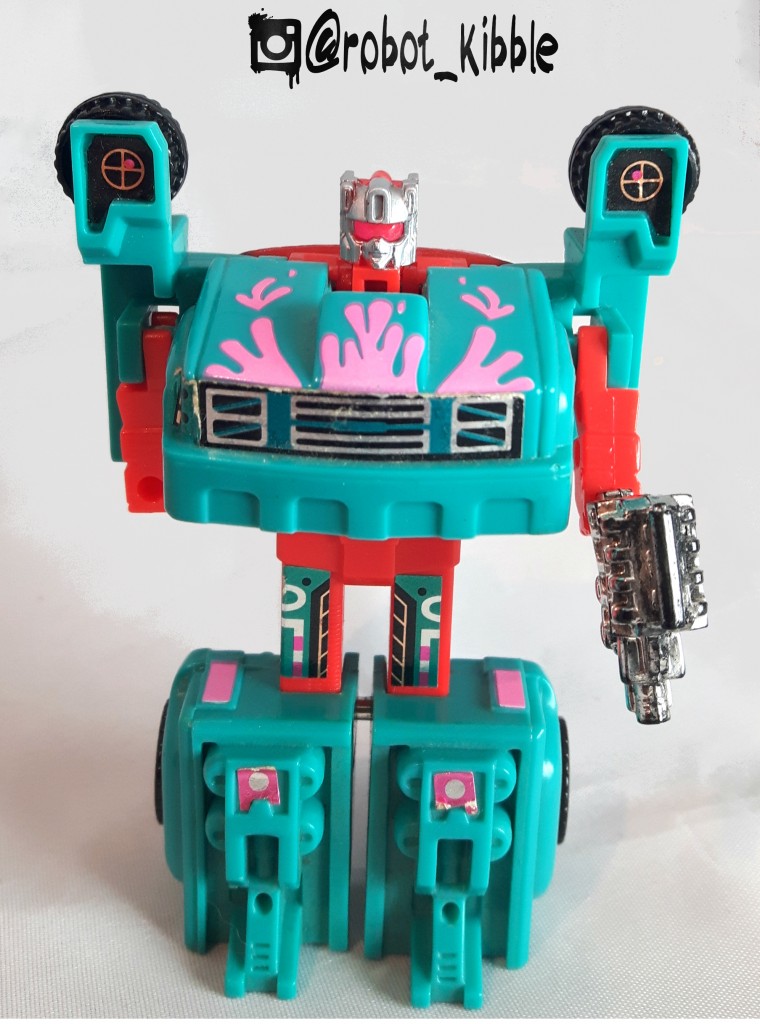 Released as Turbofire in the US, this is one of those rare occasions when I tend to go by that name rather than the first European release.  I'm not sure why, I just think I was first introduced to the character as Turbofire thanks to the old and long out of print Antarctic Press Cybertronian Recognition Guides.  His function lists him as Back-up or Supplies and Support, so basically he's the office bitch and errand boy, the down-side of being a pick-up truck I daresay.  His Italian name is  Astro, but whatever you call him he has been sadly under-used in fiction.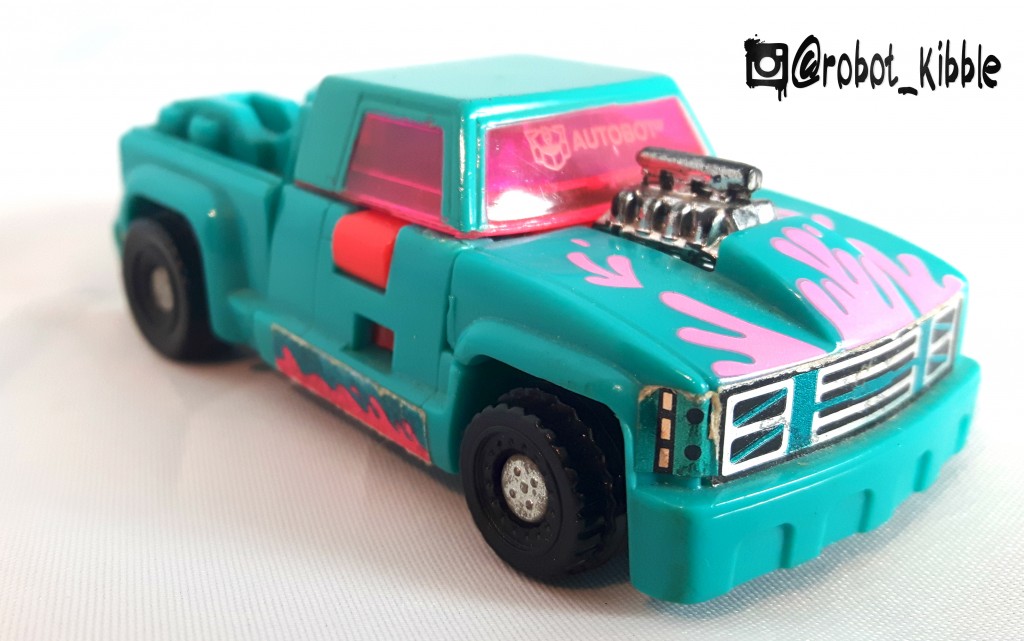 Some great apps and stickers make the alt. mode really pop, when it could have been just another pick-up truck.  I've always been sad we didn't see the CHUG Kup mold used for this guy, but as it was used for Electro, it's probably best we didn't get it.
Windbreaker / Zap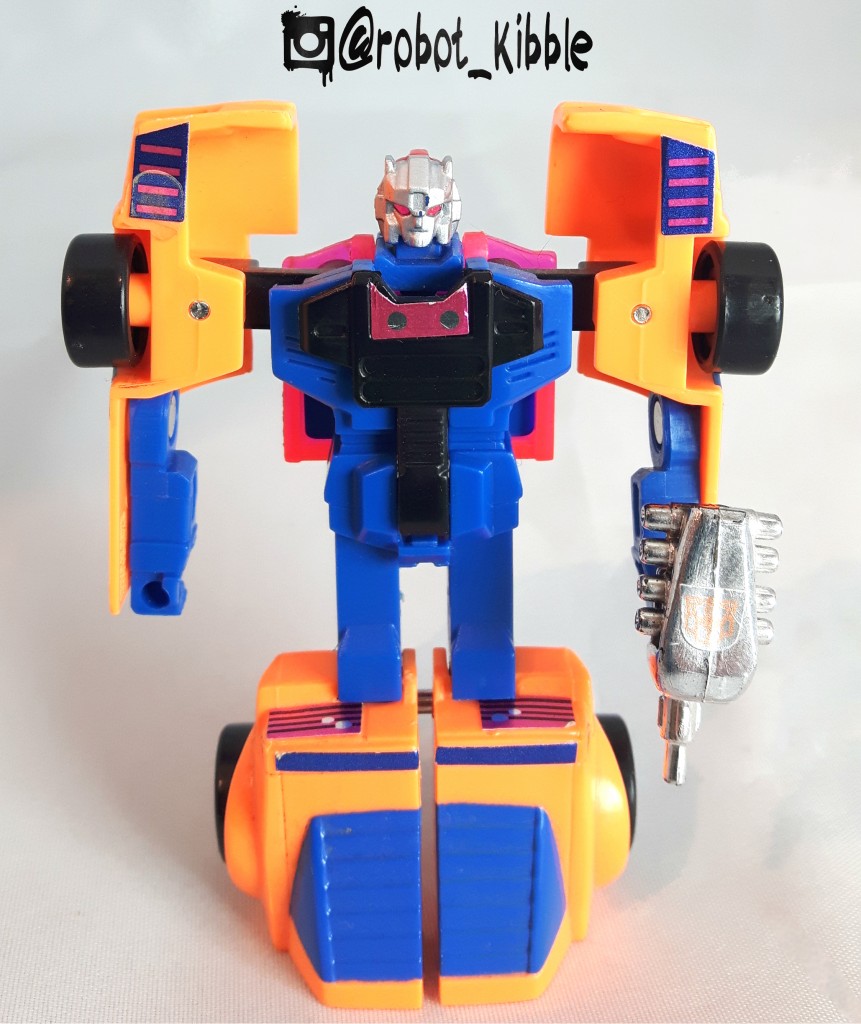 Named after the second Spinal Tap album, it's often been rumoured that his naming was due to the Windcharger trademark being unavailable, this certainly tallies with his unique for the team transformation, where the hood DOES NOT become the robot chest, instead splitting down the middle as part of the robot shoulders.  Whatever the reason, it led to him having one of the funniest Transformers names of all time.  He function lists him as an Advance Intelligence Scout, and he has an amazing head-sculpt that almost makes him look like a Basic -class Beast Wars toy.  Windcharger has a naming problem, picking a different name for almost every territory, going by the names Zap, Folgor, and Rush around various parts of Europe.  In Japan, he goes by the name Carzap, despite never having a release… we'll come to that in a minute.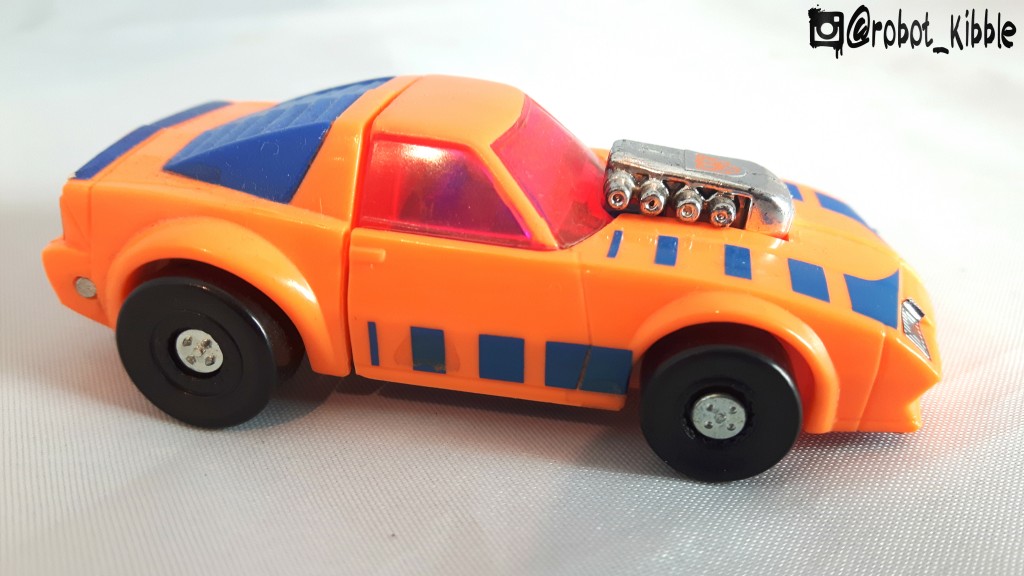 His alt. mode becomes a Chevrolet Camaro Z28, which, for the time, means it's exactly the same car underneath the body work as the Fourth Gen Pontiac Firebird, which again keeps in line with the Windcharger theory.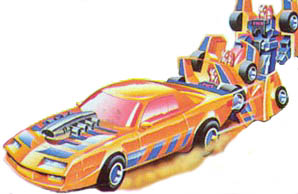 As I mentioned earlier, none of these toys have ever been reissued or recoloured, although they very nearly did, as part of Takara's planned Block Town range (mixing Lego style building blocks with vehicle toys), as Japan never actually saw the release of these in their original colours.  3 out of 4 Block Town figures have been seen, though the pictures are not great.  Gang molding means we can deduce the colours of the fourth figure (if you look, you'll notice that Windbreaker and Skram have inverted colour-schemes, as do Rapido and Turbofire – gang-molding means two figures are part of the same factory sprue, halving the amount of mold sprues needed to make four figures from 16 down to 8).
Amazingly, we did actually get a Block-Town Carzap release – one of the most obscure tributes ever – in the 2015 TFCC Subscription Club 3.0.  This is EXACTLY the sort of figure I want to see from a Sub service, and for me this alone justified the entire existence of the Sub service (and they give us obscure Action Master figures like Treadshot).  The 2015 Carzap was a retool of the Generations Bumblebee / Nightbeat mold with a new head, and amazingly included a small Kreo set with a fuel pump and a totally exclusive G B Blackrock minifigure.  How amazingly cool is that?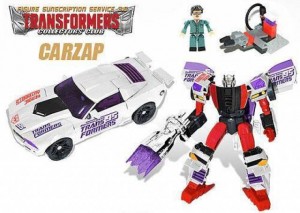 Although this does lead me to a complaint:  half finished sets.  It's amazing that we got a Rapido and a Carzap from Botcon, but how much better would it be to complete the set with a new Turbofire and Skram, and re-use that Carzap head to make a proper Windbreaker figure.  Then finish of the Block Town homages.  As much as I love the coolness of the Fun Pub / TFCC offerings, I feel we always start a new series before we finish the last, and with them rumoured to be losing their license I feel we have 1/4 of the Laser Rods with Electro, 2/4 of the Axelerators but with mixed colour schemes, and 1/4 of the Turbomasters with Scorch all on his own.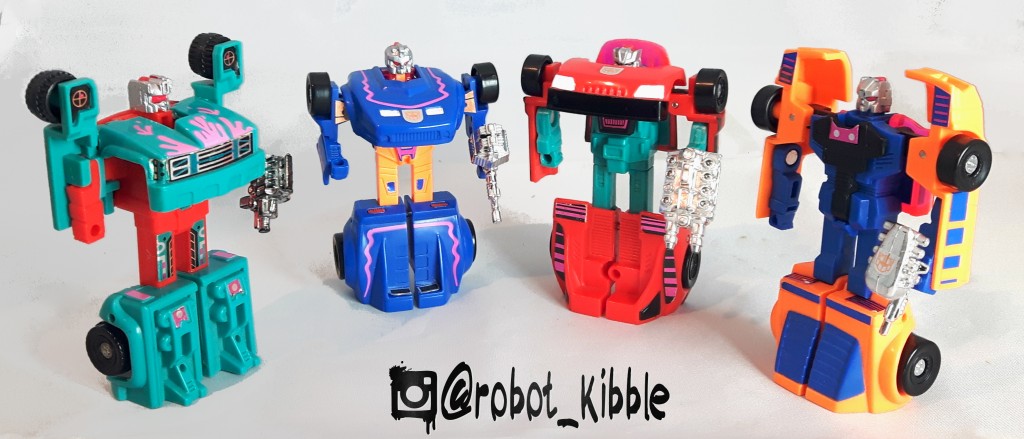 So to date, there is no way of getting an updated version of the Axelerators, and that sucks.  but do you know what doesn't suck?  You can get these guys for less than £10 each, fairly easily.  So, you know, go to!  Then you can decide on their names for yourself.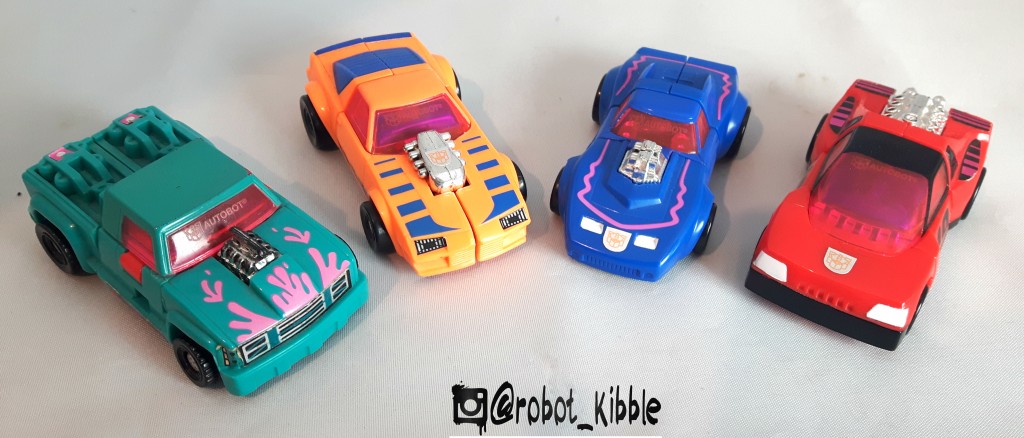 Just because Hasbro and Fun Pub can't give us updates of these toys, doesn't mean no-one will.  Last TFCon convention, Fans Project (the other FP) teased their version of these; The Speed Team.  Teaser art was shown, and I have heard some interesting things about functionality and play patterns, and I hope these bear fruit when the toys are eventually released, and when they are, you can bet Kapow Toys will stock them!
-CZH / Ceno Kibble / Sid
---
---