Continuing our look at the Action Master line, today we're looking at the Autobot Vehicles.  Some of the larger figures from the range, much bigger than the Action Blasters or Exo Suits, but smaller than the (for want of a better term) Leader Class toys of Gutcruncher, Megatron and Optimus Prime.
Sprocket

Once again, some excellent character art for this guy, a lot of the times it doesn't feature that prominently on the very busy 90s packaging, so it's good to see it clean.  Fair play to Botch the Crab who does an excellent job archiving character box art on his site.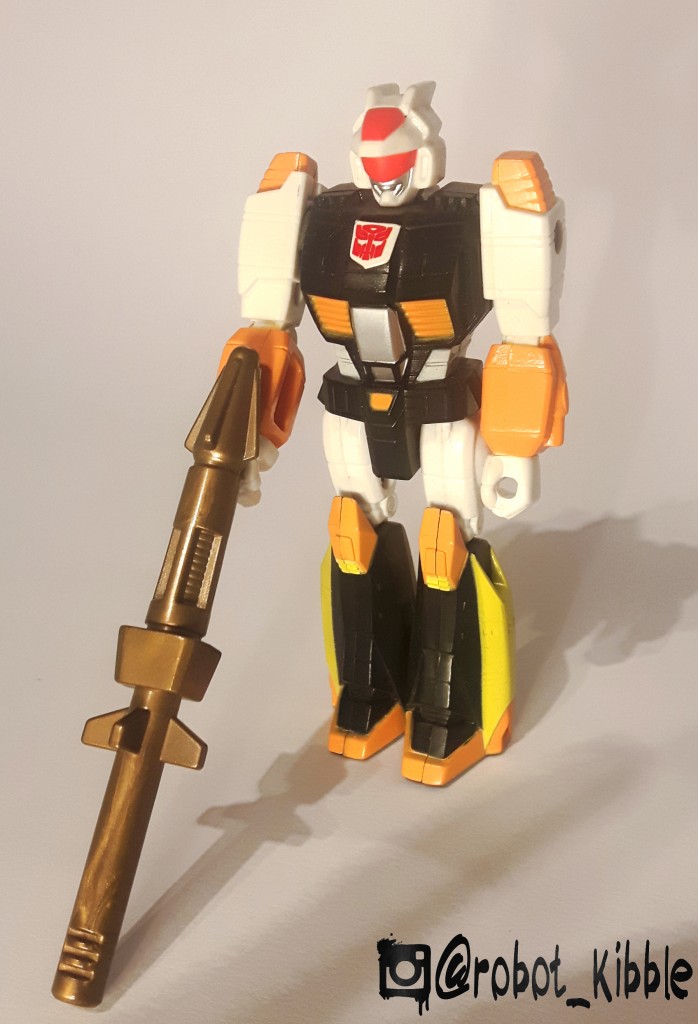 Sprocket looks great as a robot with some excellent choices of colouration, the white, yellow and orange colourations really offset his darker torso.  Straight away, we're drawn to that oversized weapon, the fact that it's gold plastic with a small 3-mil hand-peg makes us all want to handle with care.  His chest looks like he used to transform into a Cybertronian jet of some kind, with the stylings differing from many of the Action Masters usual vestigial Earth-modes.

Sprocket is unique to Action Masters, with no other updates or homages released third party or otherwise.  Why no love?  Jackpot, Kick-Off, Axer, Circuit, Slicer and many more AMs have been homaged, but this guy gets nothing outside of appearances in TFCC fiction and cameos in More Than Meets the Eye (which is something I guess?).  His name hasn't even been re-appropriated for a vastly different TF character or product. For shame.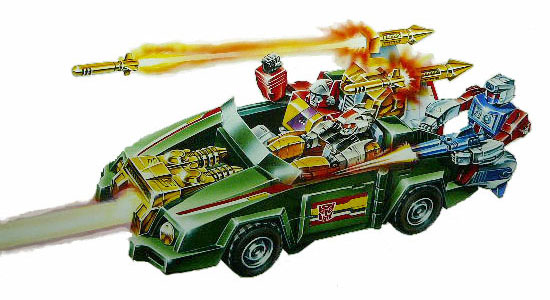 As you can see on the artwork, the gold weapon doubles as missiles for the alt. mode, but these are solid pieces for display only with no working projectile ability.  Also, the car doesn't fire huge lasers from it's engine block and it cannot drive on it's own.  Well done to Sprocket for maintaining a sensible "ten-to-two" hands on the wheel approach to driving amidst the chaos and gunfire.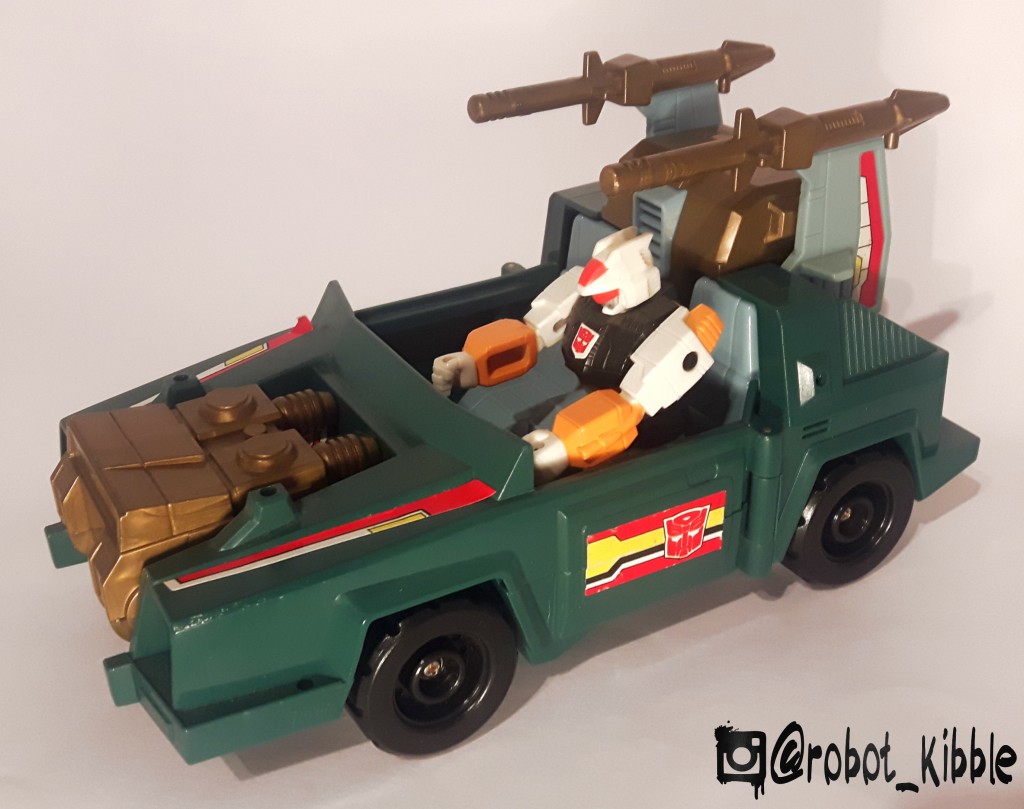 On it's own, the vehicle isn't that satisfying.  A green off-road vehicle with a fairly ugly design, I can't see it appealing to many kids even in 1990 as it looks like a convertible Land Rover.  However, it's transformation into an Attack Cruiser is quite involved, featuring only one breath-stopping forcing of a GPS liable block of plastic on the front end.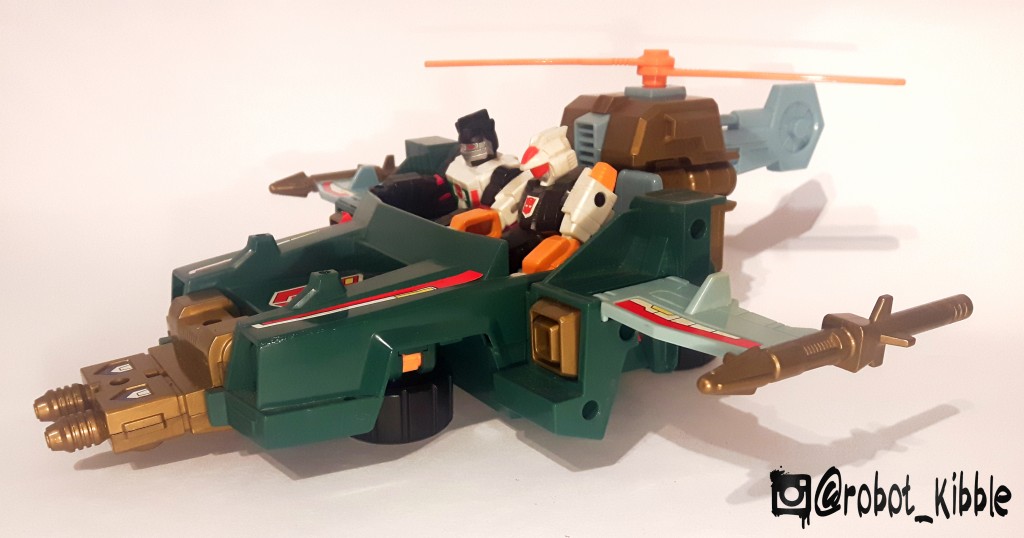 This is pretty cool in my book; wings, helicopter blades, weapons, DeLorean / BTTF style folding wheels.  I never had this as a kid, but seem to remember a friend did, and it was great fun to convert and fiddle around with.  The extra driving seat adds an extra dimension and is a real highlight of the Action Master line, as these figures really do interact with each other and share a play pattern.
Wheeljack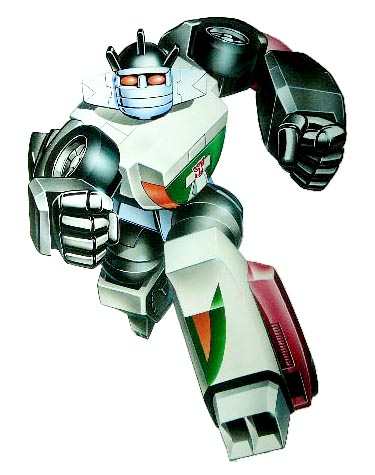 Finally!  A Wheeljack with a proper face, with eyes and everything!  Even as a non-transforming fairly basic figure that was often ignored at the time, it still has more paint apps than the Combiner Wars version.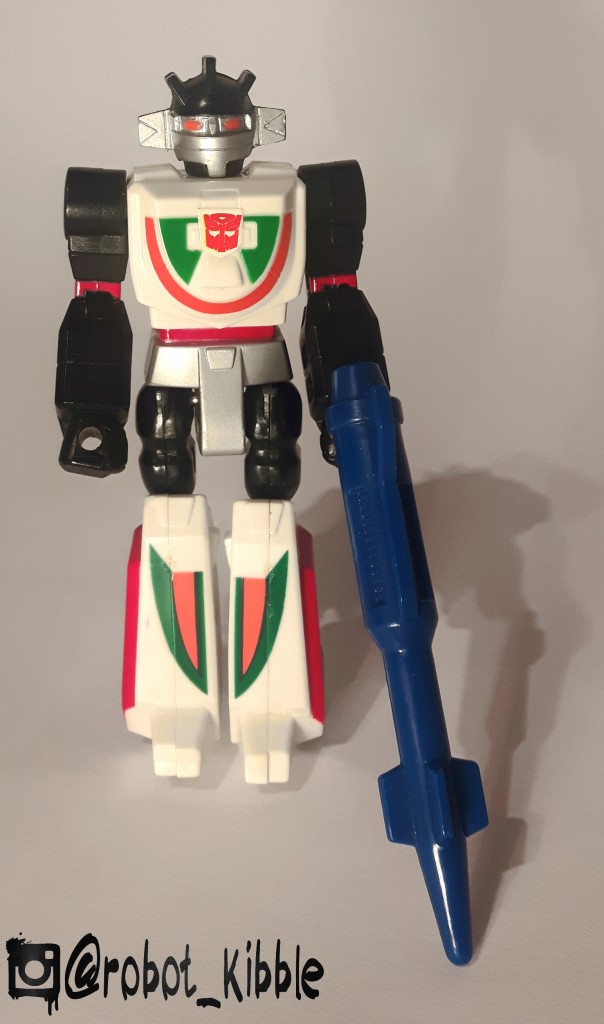 As with Sprocket, the missiles from the Turbo Racer detach to become hand weapons.  There's not much else to say about the figure, it has standard knee joints, ball-jointed hips held by elastic, lateral movement in each arm and ahead swivel, like the rest of the product line.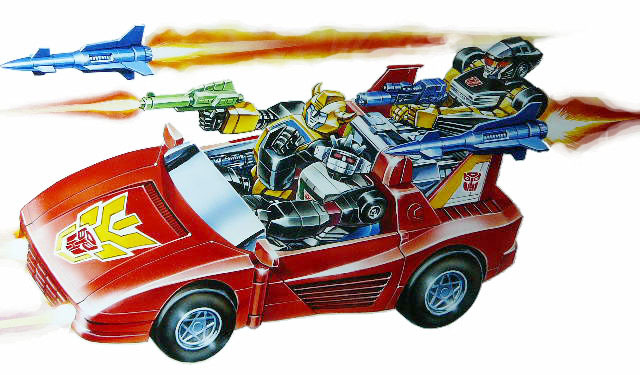 Artwork looks great, and it makes me wish I'd popped out Bumblebee and Jackpot to recreate this scene above.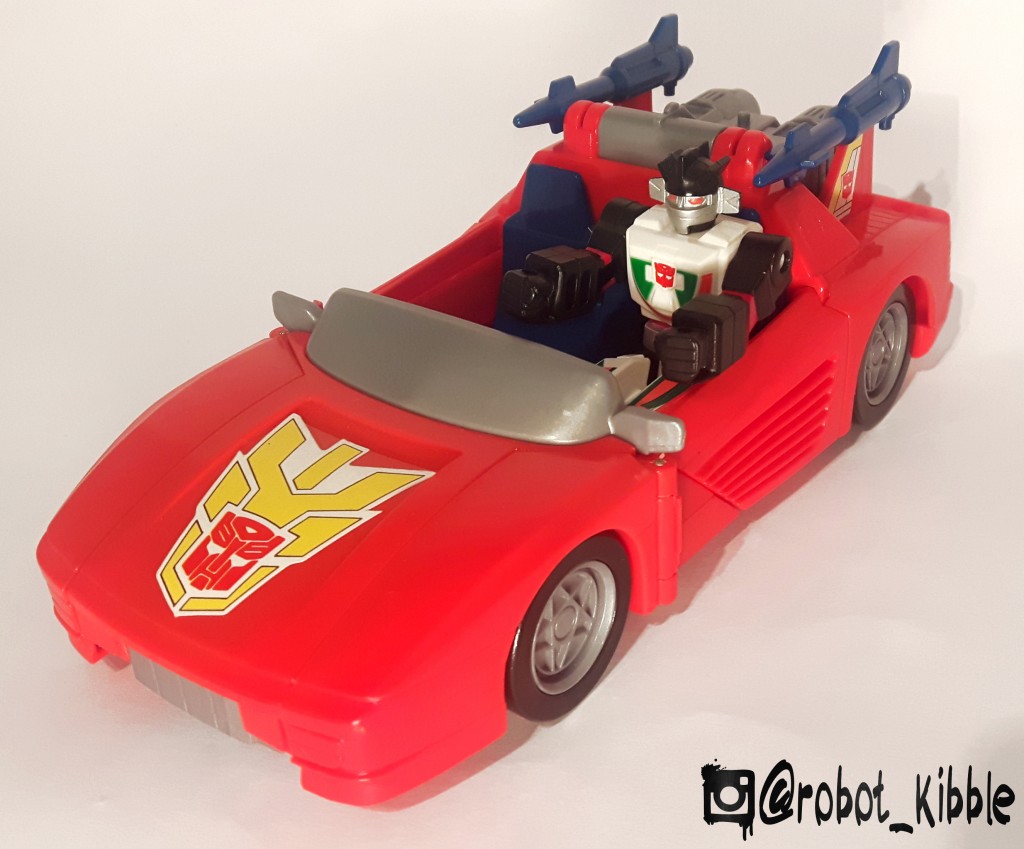 It's a fun, racey looking vehicle with obvious Testarossa overtones, although one negative aspect of molding a big red plastic race car is it sort of looks like it transforms into this: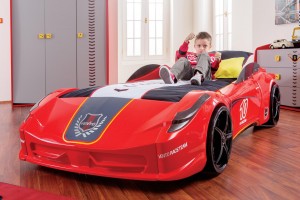 Yup, Wheeljack's car looks like it transforms into a bed.  Ah well, actually it transforms into the marginally more cool: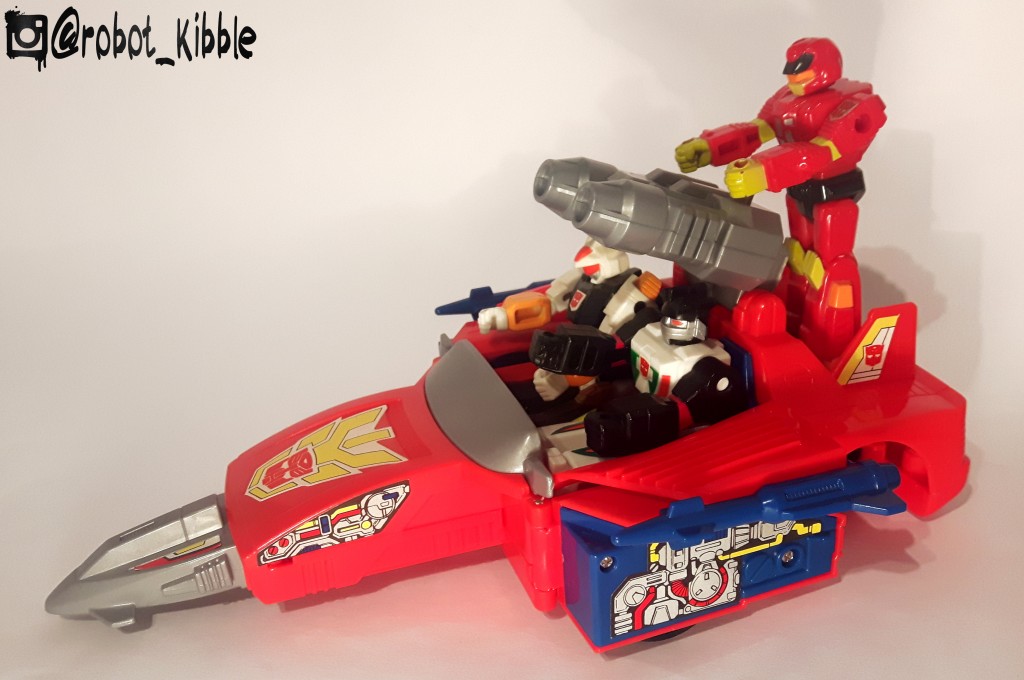 It's supposed to be a Jet Fighter, but the way the doors fold up to become wings get's drowned out when you fold the front end of the cars around to give it more of a nosecone shape.  Still, it's a flying car, and in 1990, you would not have been able to convince me that this was not cool.  The stickers on this guy are also a bit phoned in, with generic "mech" detailing visible in the alt. mode.  A shame, as the trim detailing and hood emblem in yellow really set off the car mode quite well.
Overall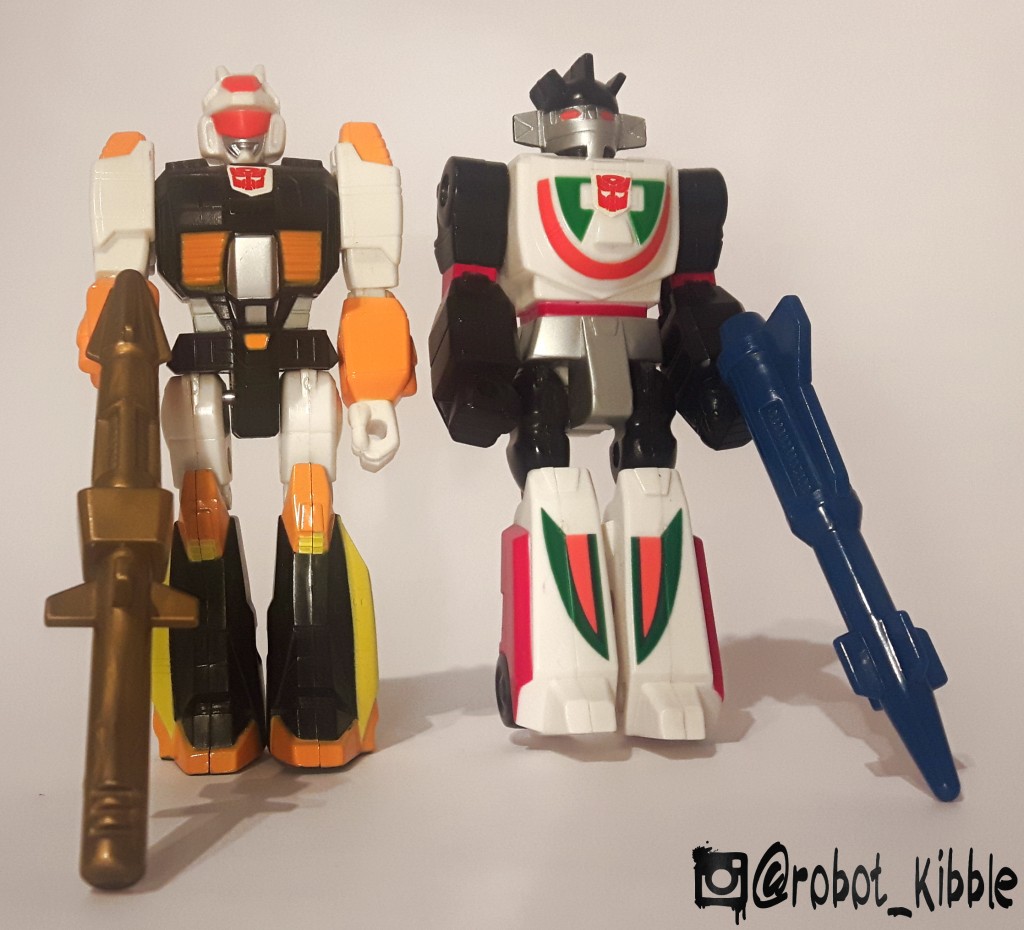 These are fun toys.  Just as Micro Masters was a reaction to Micro Machines, I'd argue this was probably a move towards competing with the Teenage Mutant Ninja / Hero Turtles toyline, which had seen great success with it's action figure and vehicle / playset product line the years preceding these releases.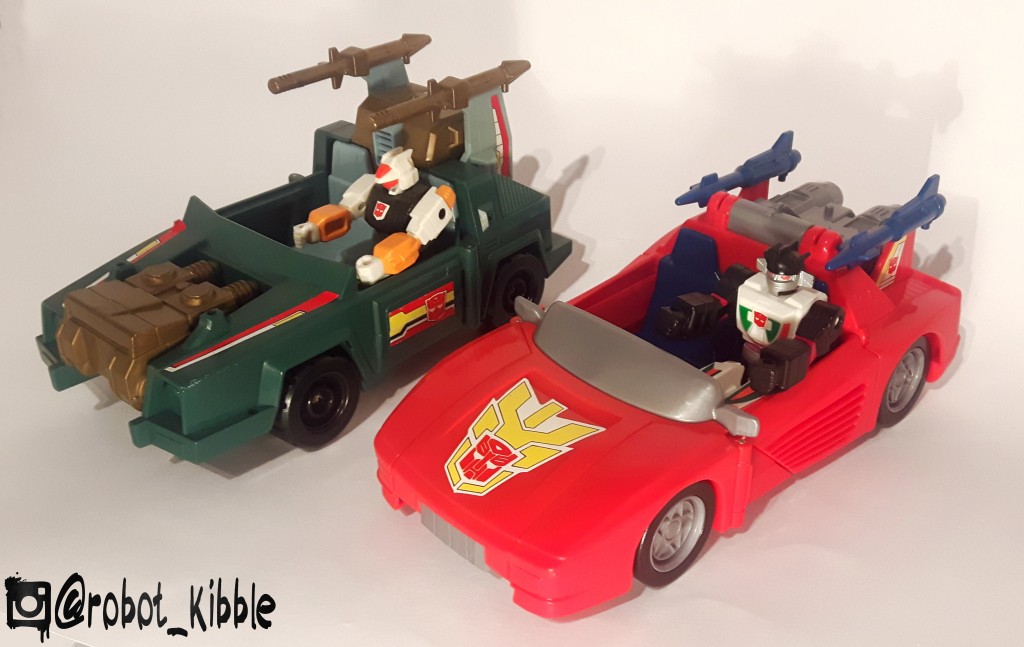 They are a fun part of the legacy of the line, and whilst they were considered a miss-step at the time, it seems opinions towards the line has softened in recent years, and I would encourage all TF fans to give them a look.
As always, thanks to Kapow for giving the blog a home!  Although we aren't spoiled for choice for Sprockets, there are plenty of Wheeljacks on the market, check out what Kapow has right here!