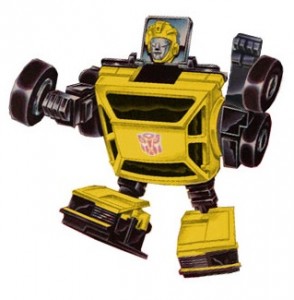 When you say Transformers, the first names that pop into the general public's heads are Optimus Prime and Bumblebee (as well as the big three on the Con side of the street), if you push a bit harder they might be familiar with the name Cliffjumper too.  Ask them who Bumper is, and you'll likely get a blank face.
That's because back in 1984 Bumper – or Bumblejumper as he is sometimes known (both portmanteaus of Bumblebee and Cliffjumper) was never officially a Transformer with his own name and identity from Hasbro or Takara, although he was packaging and sold as one.  He did officially appear as a Transformer in South America, as part of Brazil's licensed Estrela toyline, where he was available in four different colour-schemes (white, blue, green, and yellow), where he was known simply as Sedan.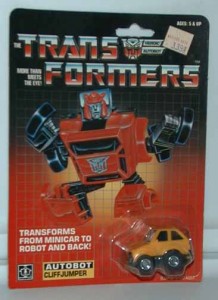 The general consensus is that unsold stock from the various Diaclone and Micro-Change lines was repackaged as official Transformers (hence the rare but existing Red Tracks in MB packaging), but this left poor Bumper with no place to go and he was repackaged on either Bumblebee or Cliffjumper cards (although the former is hearsay, with no carded ones known to have been discovered).
In today's article, we'll look at two fairly recent additions to my collection, and explore the history of the character that elbowed his way into the TF fandom.
Bumper (Transformers, yellow) and Sedan (Estrela, Blue)
The robot mode is pretty much what you expect if you have ever experienced the vintage Bumblebee or Cliffjumper toys… charming and fun, and every bit the cheap end of the 80s toy spectrum.  Back then, there was a toy for every price point, and this is what made the line so inclusive and expansive.  Nowadays, there is a toy for every price point, but they're usually the same character in different scales.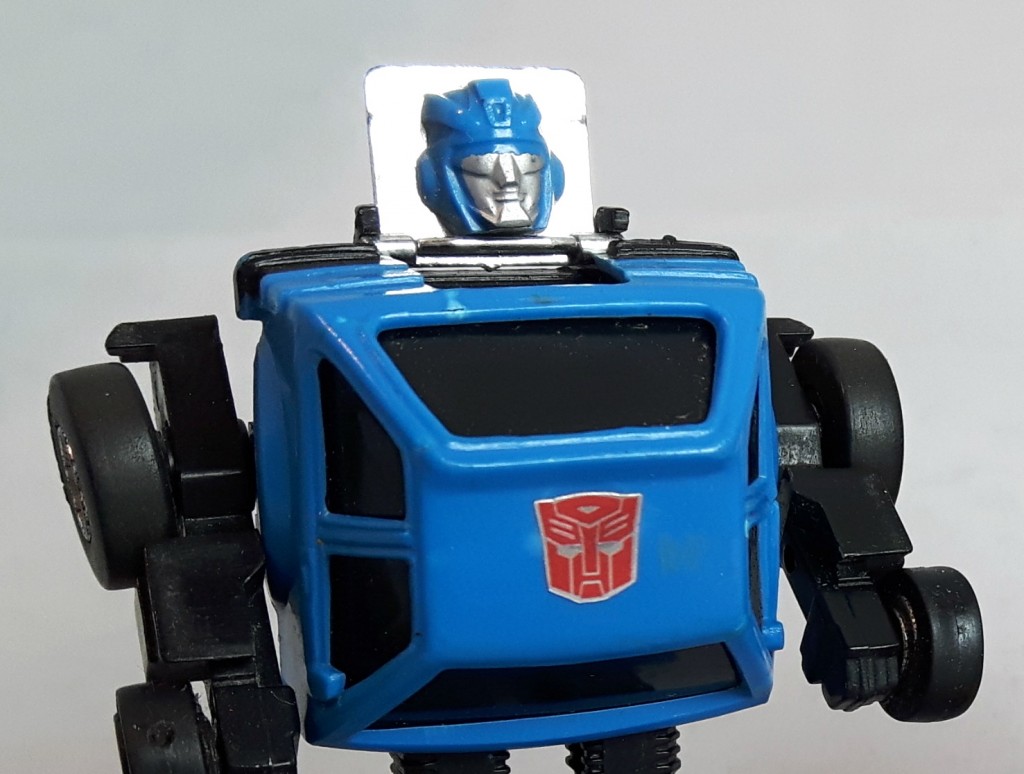 The transformation is text-book G1, easy, fun and intuitive.  Why they even felt the need to print instructions on the card back seems off to me, but I guess it covers the toy companies from any broken toy complaints.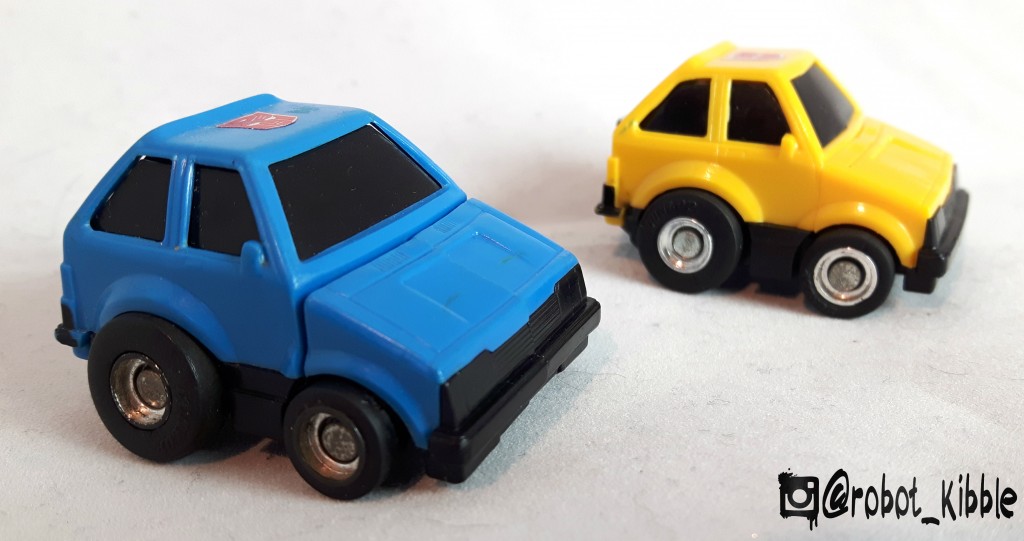 The alt. modes to these Mini Autobots seems to confuse a lot of fans, especially the ones who abide to the "holy scale chart", Bumblebee  never transformed into a VW Beetle, and Cliffjumper was never a Porsche 924, rather they were super deformed penny racer versions of these alt. modes, otherwise G1 Cliffjumper would be the same size as the G1 Jazz toy, and MP collectors need to realise that Bumblebee is only in scale with our childhood memories of the vehicles as the Beetle has a larger wheelbase and overall length than a Lancia Stratos.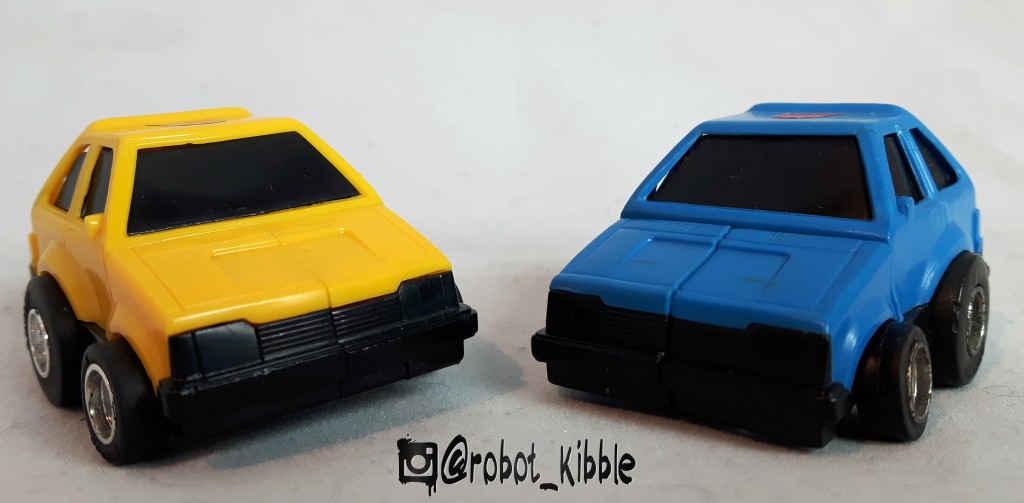 To that end, this guy transforms into a Super Deform Penny Racer version of a Mazda Familia.
Overall
Originally I wanted this guy in blue, because there are quite a lot of yellow bots already in the minibot line with Yellow Cliffjumper and Hubcap, however, once I got the blue version (which I promptly faction logo'd up much to the chagrin of Estrela collectors), I really wanted the yellow one too.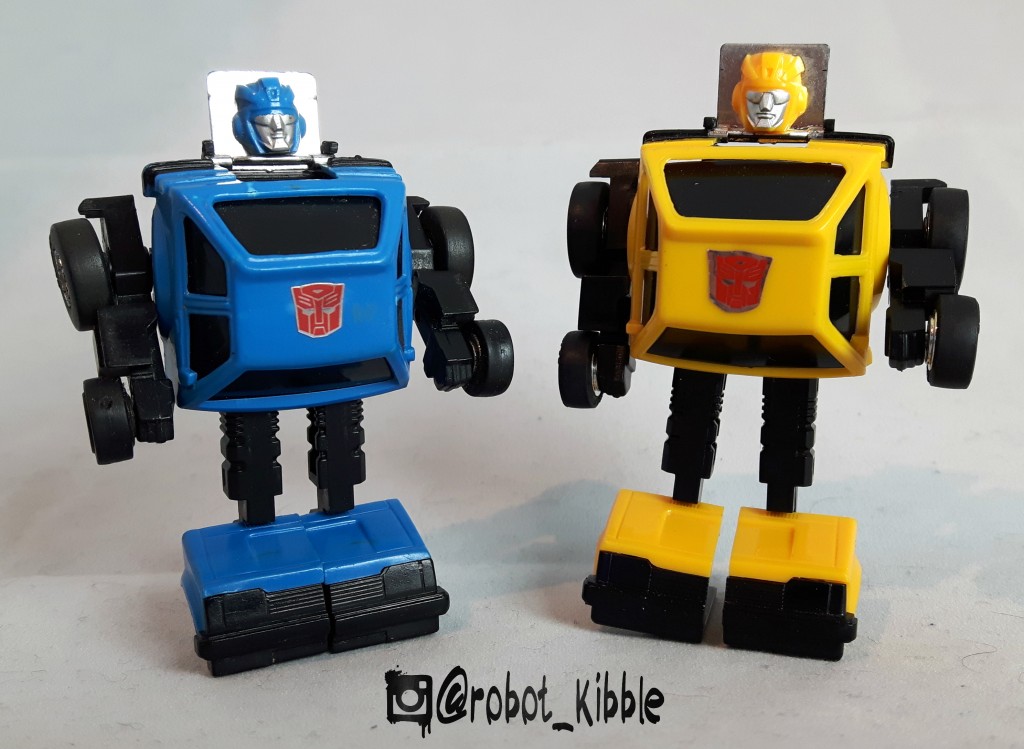 Overall, I'm very happy with these guys, and the conditions I got them in and the prices I paid make them seem especially good.  There are apparently KOs of the yellow one now doing the rounds, so buyer beware on that front!  If the price is too good to be true and the condition way too clean, have a real think about your purchase.
As technology advances and toys get more and more real world in alt. mode and more and more anime accurate in robot mode, it might seem there is little place left for the concept of Transformers converting into super-cute deform versions of vehicles.  Some might argue that modern day licensing might even back it harder to do, as brands get super protective of their IP and likenesses.  That's probably why I'm so happy with the current QTF line from Takara, licensed deforms which harken back to the original Mini-Autobots from 1984.  Masterpiece Bumblebee is great, and for a lot of people is the definitive Bumblebee we all wanted as a kid, but for me, the QTF line takes me back to the earlier, more innocent days of the TF line, where various toylines were shunted together to create a loosely-fitting range.  If you're interested in seeing more of the QTFs, comment on this article and we'll see about making them a future focus.
What makes Bumper very intriguing, is his absolute lack of any further product.  He was fully embraced as an all new character in his own right during the Dreamwave run of comics, but he's been used very little since then.  We've had no new official updates, and no reissues / Encores, and we live in a world with 60+ Bumblebee repaints between 2007-2011 when a new head sculpt could have meant another character, and this in a time when even Scrounge is getting an official toy!
True, we have had a few offerings.  Impossible Toys had one last shot of glory with their attempted minicar range which featured a very true to the original but with articulation Bump that somehow didn't quite work.
iGear had a Bumper scheduled called Fender, which was cancelled before we was even announced (click here for more about the fate of iGears minibots), and making use of all those Bumblebee repaints, Renderform released an add-on ki;t RF-009 Bump Scout, which gave Bumper his first ever update back in 2011, during the halcyon days of CHUG.
So what do you say Hasbro / Takara?  About time we get an official Bumper or what?
Thanks for reading as always, and while we're waiting for Takara to do something with Bumper, you can console yourself with a plethora of Bees over at the Kapow main page.