These curious little fellows are an oddity in Transformers, as they've never been packaged to buy individually.  Instead, the mini-spies were given away "free" in 1985, packaged with the Autobot mini-cars to introduce the new concept of heat activated rubsigns, so you could see which faction a character belonged to!  Not like it was ever a big secret before mini-spies, with Transformers items branded with the appropriate faction logo right on the front of the packaging.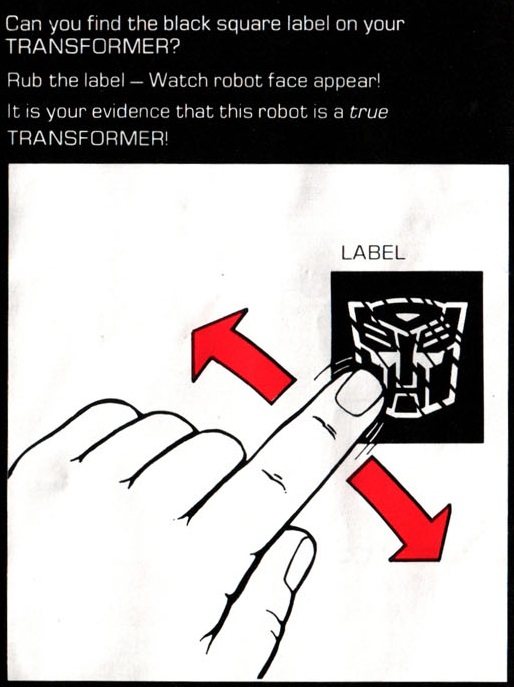 The real reason for the new rubsigns was slightly more insidious.  Unsold stock from licensing deals (most notably Diakron) that pre-existed the Hasbro / Takara alliance were showing up for sale with the popularity of the Transformers cartoons, and Hasbro wanted to make it very clear to parents and children what a REAL Transformer was, with the instructions from 1985-1987 stating that only a REAL Transformer has the rubsign as a seal of authenticity – after all, Hasbro saw no money from these other toys.  It also helped to distinguish Transformers from their rival GoBots, because to many a parent, a transforming toy robot was a transforming toy robot.  Of course, children and parents back then couldn't have known the intricacies of trade deals, or predict the rarity of the pre-rub toys, or even moreso the mythical unsold Diaclone / Microchange toys cluttering up clearance aisles with their weird colouring variations.

The Mini-spies were never named individually, but were available in four different body types; Jeep 4WD, Buggy, Toyota FX1 Concept, and Porsche 928, and in three different colours; White, Blue, and Yellow.  That means a Transformers collector with OCD has no good way of displaying four different minispies, as two of the colours will repeat.  This has never sat well with me.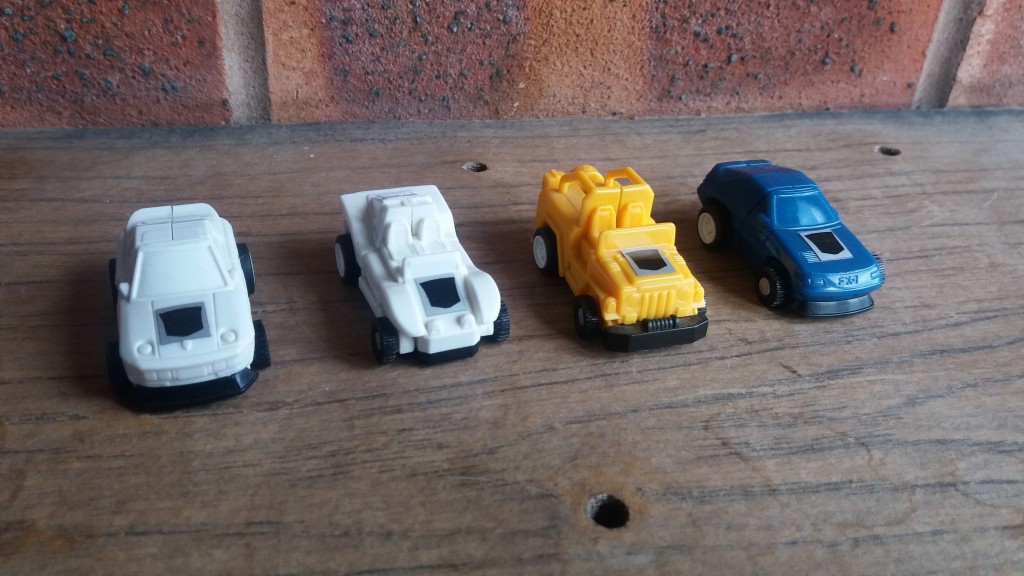 One solution is to collect each mold in each colour, for a total of 12 variations.  But wait, there are different faction logos; Autobot and Decepticon.  That makes a total of 24 variations?!?  What is a fanboy to do?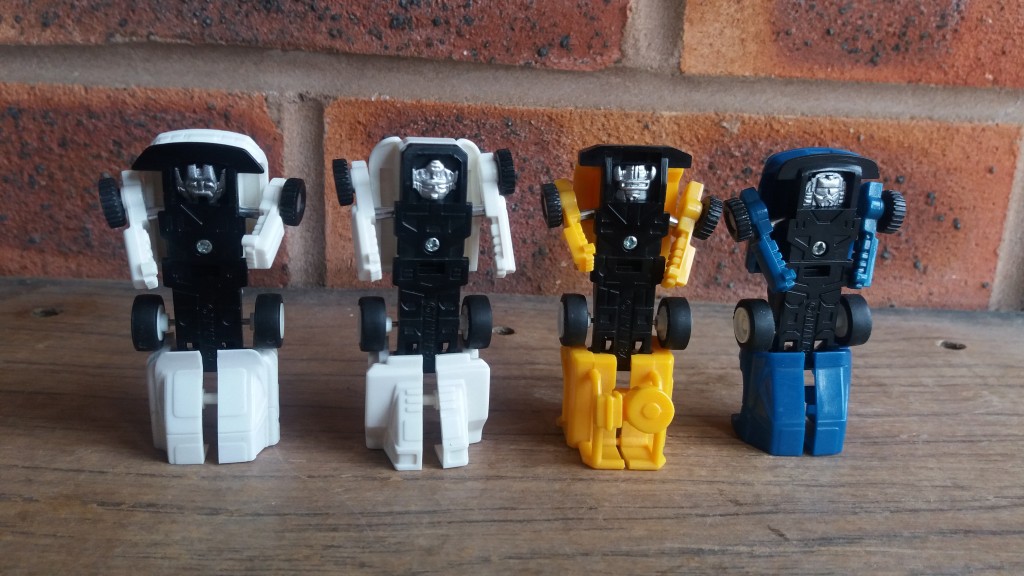 Well I'm sure many a collector will happily track down all 24 variations, but for me this was too much.  I'm not bothered at all about faction variations, as to me any cars from the first three years have to be Autobots, right?  Twelve mini-spies isn't untenable, but it is now a question of space and as cute as they are, do I need that many variations?
But there is a real solution.
Contrary to popular belief, the Mini-Spies were not ported over from Diaclone or Micro-Change, yet they are Takara through and through, from another line called Mecha Senshi (Mecha Warriors), where they were packaged separately, and in great packaging too.  In Mecha Senshi, they were only available in two colours; blue, and red.
Wait, did I say red?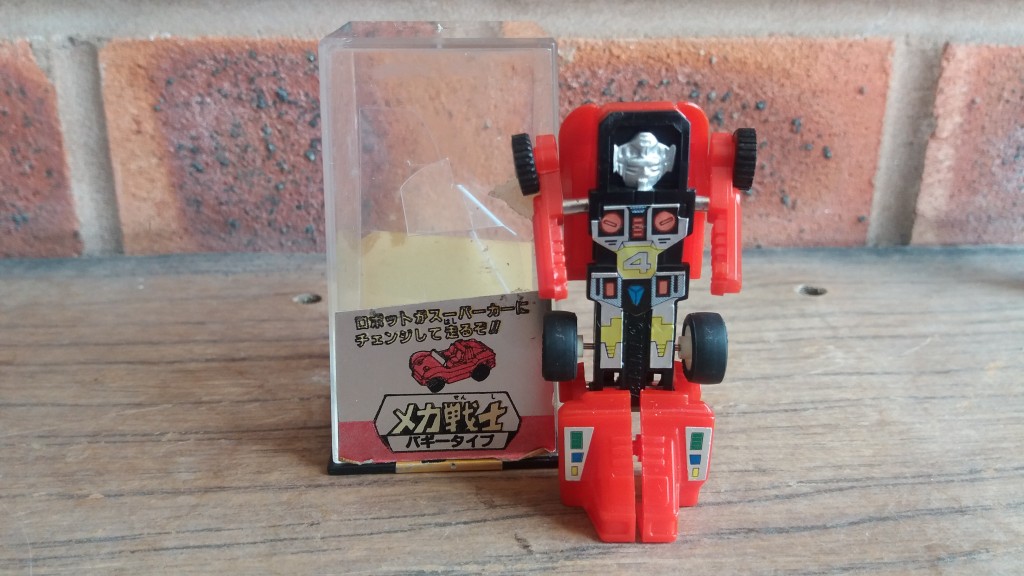 Suddenly, my collecting woes are over!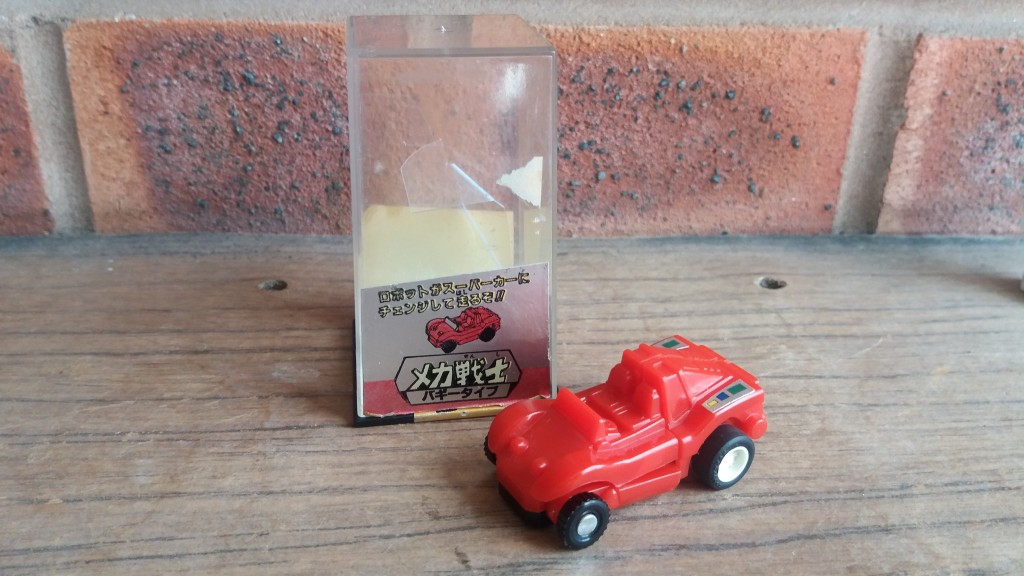 I only found out about the red Takara versions a few months ago after a chat with fellow toy enthusiast Flux Convoy, and made it one of my priorities for Botcon 2016.  It's not like they are particularly expensive, but even Hasbro minispies can be hard to find, never mind a pre-Transformers version in red.  I found one which was a little expensive for my tastes, but I couldn't resist the packaging.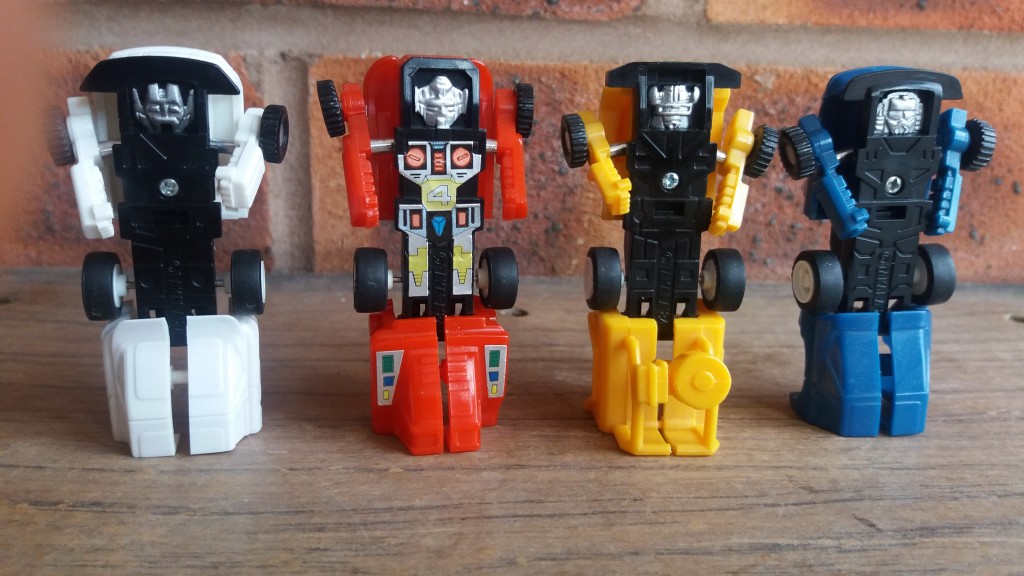 I'm trying to find out a bit more about the Mecha Senshi figures, like were they available to buy separately, or were they some kind of vending machine product, because the packaging almost looks more like a primitive gacha capsule.  The current consensus seems to be store display, probably counter-top case displays.  Any pictures or information would be gratefully received.
The thing I appreciate most about the Takara version are the stickers, although they offer little to the mechanized and awesome pull-back-and-go car mode, the robot mode badly needs some extra detailing, and the numbering of each figure is a great touch.  It make me want to seek out the other three in Takara versions, but then I'm limited to the two colours again.  And if I'm not going to do that, should I put a rubsign on the red version to give them a uniform look?  It seems a nerd's work is never done.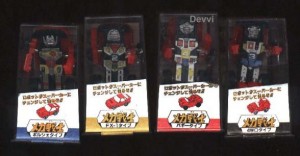 Rubsigns were phased out in 1988, most likely because the plethora of all new molds post-movie meant that distinguishing Transformers from previous incarnations of Takara product was no longer a concern.  This meant that some of the combiners were available sans rubsigns for the first time with the gold-packaging re-releases of the early 90s.  We wouldn't see the return of rubsigns until Beast Wars year two, as Energon chips, and they finally returned to Transformers proper in 2006 for the Classics line, just as we always remembered them.
Most people who collected Transformers in the eighties will remember the rubsigns with fondness, I'm sure.  Together with the red decoder strip for text specs, and the iconic packaging, these things all helped to cement Transformers into an entire generations psyche, but as fun as the gimmick was, even as a young 'un I felt that in some circumstances the rubsign got in the way.  On top of Optimus Prime's cab?  No problem.  Front and center on Soundwave's chest in lieu of a proper show accurate faction sticker?  Problem.
Other than the minispies, the idea of a transformers allegiance being a mystery until you checked the rubsign was never actually used to promote a toy or build mystique surrounding a characters loyalties, which I feel is a real missed opportunity.  The closest we came was with Punch / Counterpunch, who had both an Autobot and a Decepticon logo.  Even now, 30 years on, I think it would be very cool to introduce a character in the comic and his or her allegiance be kept a secret until the toy release, which reveals once and for all their true leanings.  Although, I fear in the age of internet spoilers, this potentially cool idea would be blown before the toys even made it to the shelves.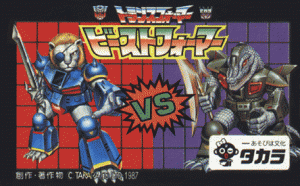 Arguably, the best use of the rubsigns was on the Battle Beasts toyline, with their wood, fire, and water powers (think rock / paper / scissors analogue) hidden in a rubsign on their chest.  In Japan, this toyline was actually a part of the Transformers line, with the Beastformers first appearing in the Headmasters cartoon.  Perhaps we'll take a look at this range another day.
Thanks for reading.